WELCOME TO THE CUSTOMS MUSEUM IN SUOMENLINNA!
The history of Finnish Customs from the Swedish reign to the present
---
Opening hours
The Customs Museum is open from Tuesday to Sunday, 12:30 pm–5:30 pm. until 31 August 2019.
Free entrance!
The museum is located
on the island of Suomenlinna
Susisaari in Suomenlinna,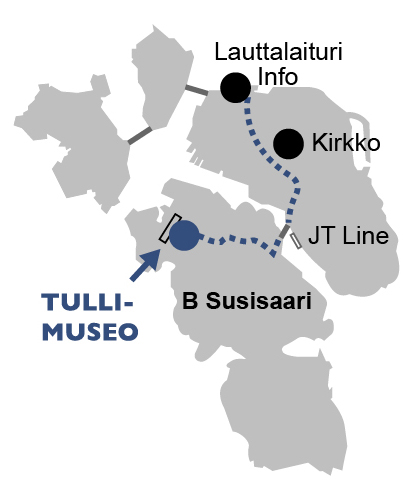 the Hamilton-Polheim Curtain building
(Suomenlinna B 20 D).
Thematic exhibition: Dogs at Finnish
Customs - 50 Years of Detector Dog
Activities

The new thematic exhibition will delve into the 50-year history of customs dogs.
Dogs at Finnish Customs
The Customs Museum's new thematic exhibition "Dogs at Finnish Customs" will explore the 50-year history of the customs dogs. Customs trained and employed its first drug detector dogs in 1969. They were kept busy from the start, as imports of narcotics were rising at the time. From then on, the number of dogs kept growing. Today, Customs has around 50 dogs.
The first dogs only looked for narcotics. Over the last decades, Customs has also trained dogs to detect other substances. The dogs have always been trained through play. The customs dogs have been and still are an important tool in the fight against narcotics smuggling.
Come and see the work of the customs dogs!
Contact information
tel. 040 332 6979 (during the opening hours of the museum)
tel. 040 332 2774
Email: tullimuseo(at)tulli.fi