Basic information
The customer interface is a system created for traders, i.e. for public use. The customer interface is primarily intended for lodging customs declarations and checking their state as well as for responding to requests from Customs.
Supported web browsers
The system supports the following browsers: Chrome 38+, Firefox 38+, IE11, Safari.
Logging in and out
You log in to the customer interface using an external service. Only authenticated natural persons and legal persons are able to log in to the system.
You log out by clicking 'Log out' in the top right corner of the front page.
Settings
You get to the user settings by clicking 'Settings' in the top right corner of the front page.

In the user settings, you can edit the following details:
message settings

default values shown in the declaration

number of rows for lists
When you log in for the first time, complete and edit your user settings. In the settings, enter the email address to which alerts relating to your declarations shall be sent when a declaration requires measures. The information saved in the user settings will be shown automatically in the declarations, and you can also edit the user settings later.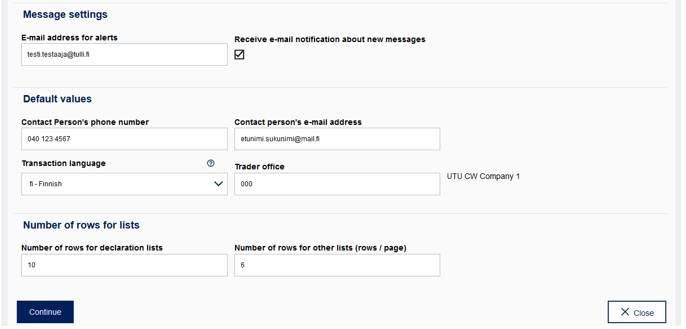 Message settings
In the message settings, you indicate whether you want to receive notifications about new messages from Customs. Please indicate the email address for notifications. If you don't want to receive any alerts concerning messages sent by Customs, you must follow the progress of your declaration via the e-service.

Default values shown in the declaration
In the settings, you can also edit the following default settings shown in the declarations: contact person's phone number, contact person's email address, transaction language and trader office. The default values are always used when you start completing a new declaration.

Number of rows for lists
You can edit the number of rows you want to see at the same time in lists. The default is 10 rows for declaration lists and 5 rows for other lists.

By clicking 'Continue' you save the edited details.

Declaration data panel
You can easily see the key details, such as the state of the declaration, the MRN, the name of the trader and the time when the declaration was registered, in the data panel above the declaration details. In parentheses, you see the declaration channel, i.e. whether the declaration was created in Customs' online service or via message exchang.