Månadsstatistik om utrikeshandel med varor, januari 2019
29.3.2019 9.00
---
---
Tulli, Tilastointi
Både exportvolymen och exportpriserna ökade i januari
Värdet på Finlands export av varor ökade med tio procent i januari enligt Tullens utrikeshandelsstatistik. Värdet på exporten var 5,8 miljarder euro. Exportpriserna ökade med 1,0 procent och exportvolymen med 10,5 procent.
Importens värde minskade med tre procent i januari och värdet var 5,3 miljarder euro. Importvolymen minskade med 1,2 procent men importpriserna låg på samma nivå som året innan.
Handelsbalansen visade ett överskott på 526 miljoner euro i januari. I januari året innan visade handelsbalansen ett underskott på 197 miljoner euro. Utrikeshandelns bytesförhållande räknas på basis av enhetsvärdeindex och visar exportprisernas utveckling i förhållande till importpriserna. Då exportpriserna ökade, förbättrades bytesförhållandet i januari jämfört med året innan. Indextalet låg på 100,3 i januari då det i januari året innan var 99,3. I december 2018 låg indextalet på 100,8.
Värdet på exporten av papper och kartong samt pappersmassa ökade i januari. Ökningen i värdet av exporten av mekaniska skogsindustriprodukter var något långsammare. Exporten av maskiner och utrustning sjönk något. Värdet av exporten av petroleumprodukter minskade. Värdet på exporten av järn och stål ökade, men exporten av koppar, zink och nickel minskade. Även exporten av instrument och mätare samt malm minskade. Värdet på importen av livsmedel och konsumtionsvaror ökade, men importen i andra huvudkategorier föll i januari.
Exporten till EU-länder ökade med 16 procent i januari och exporten till länder utanför EU med tre procent. Exporten till Tyskland, Sverige och USA ökade i januari, men exporten till Nederländerna, Kina, Storbritannien och Ryssland minskade. Importen från EU-länderna låg på samma nivå som året innan, men minskade från länder utanför EU med åtta procent i januari. Importen från Sverige och Storbritannien ökade i januari men föll från andra stora handelspartner.
Tabell 1. Total utveckling (milj. euro)
Januari
Förändring
2018
2019
%
Export (fob)
5 240
5 787
+10
Import(cif)
5 437
5 261
-3
Balans
-197
526
Tabell 2. Index för utrikeshandel
Januari
Förändring
Medeltal*
Förändring
2018:01
2019:01
2019:01/
2018:12
2019:01/
2018:01
2018:02-2019:01
2018:02-2019:01/
2017:02-2018:01
Volymindex
Export
101,7
112,3
+18,9
+10,5
102,8
+2,6
Import
105,4
104,1
-1,1
-1,2
105,4
-0,9
Enhetsvärdeindex
Export
115,9
117,0
-0,9
+1,0
117,5
+4,1
Import
116,7
116,7
-0,4
0,0
119,9
+7,5
* Tolv månaders glidande medelvärde
---
Mera information:
Kaarna, Anssi tfn 040 332 8153
Telasuo, Christina tfn 040 332 1828
fö[email protected]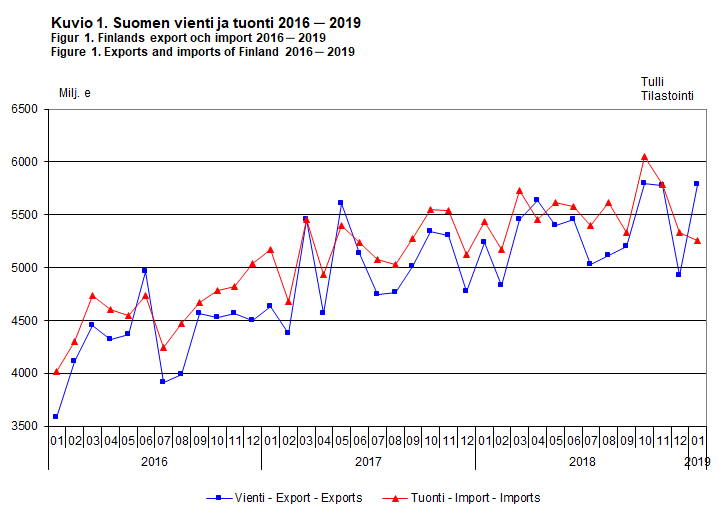 ---
Asiasanat
Seuraava julkistus
30.4.2019
---
We want to improve our website together with our customers. You can give us feedback by clicking "Send feedback".
Send feedback