Tavaroiden ulkomaankaupan kuukausitilasto tammikuussa 2019
29.3.2019 9.00
---
---
Tulli, Tilastointi
Sekä vientihinnat että -määrät nousivat tammikuussa
Kauppatase tammikuussa ylijäämäinen
Suomen tavaraviennin arvo kasvoi tammikuussa kymmenen prosenttia vuoden takaisesta Tullin ulkomaankauppatilastojen mukaan. Vienti oli arvoltaan lähes 5,8 miljardia euroa. Sekä vientihinnat että vientimäärät nousivat tammikuussa. Volyymi kohosi 10,5 prosenttia ja vientihinnat 1,0 prosenttia. Volyymin nousu nopeutui selvästi joulukuusta laiva- ja lentokoneviennin ansiosta, mutta hintojen nousu hidastui. Tuonnin arvo laski tammikuussa kolme prosenttia ja oli hieman alle 5,3 miljardia euroa. Tuontimäärät laskivat 1,2 prosenttia, mutta tuontihinnat olivat vertailukuukauden tasolla.
Kauppatase oli tammikuussa 526 miljoonaa euroa ylijäämäinen. Edellisen kerran kuukausittainen kauppatase oli ylijäämäinen huhtikuussa 2018. Vuoden 2018 tammikuussa kauppatase oli 197 miljoonaa euroa alijäämäinen. Yksikköarvoindeksin mukaan laskettu ulkomaankaupan vaihtosuhde[1] parani tammikuussa vuoden 2018 vastaavaan kuukauteen verrattuna, koska vientihinnat nousivat tuontihintojen säilyessä viime vuoden tasolla. Pisteluku oli tammikuussa 100,3 ja edellisvuonna 99,3. Vaihtosuhde heikkeni joulukuusta, jolloin pisteluku oli 100,8.
Viennin arvon nousua tammikuussa selittää erityisesti 544 miljoonan euron arvoinen risteilyalustoimitus Saksaan ja 116 miljoonan euron arvoinen lentokonevienti Japaniin. Paperin ja pahvin sekä paperimassan viennin arvo kasvoi myös. Mekaanisen metsäteollisuuden tuotteiden viennin arvon kasvu oli hieman hitaampaa. Koneiden ja laitteiden vienti laski hieman, mutta henkilöautojen viennin arvon lasku oli selvästi jyrkempää. Öljyjalosteiden vienti laski. Peruskemikaalien viennin arvon kasvu oli vaatimatonta. Raudan ja teräksen viennin arvoa nosti kaasuputkien toimitus avomerelle 74 miljoonan euron arvosta, mutta muista metalleista kuparin, sinkin ja nikkelin viennin arvo laski. Kojeiden ja mittareiden sekä malmien viennin arvoon tuli myös laskua. Elintarvikkeiden ja kulutustavaroiden tuonnin arvoon tilastoitiin kasvua, mutta muiden pääryhmien tuonti laski tammikuussa.
Vienti EU-maihin kasvoi tammikuussa 16 prosenttia ja vienti EU:n ulkopuolelle kolme prosenttia. Vienti Saksaan, Ruotsiin ja Yhdysvaltoihin kasvoi tammikuussa, mutta vienti Alankomaihin, Kiinaan, Isoon-Britanniaan ja Venäjälle laski. Tuonti EU-maista säilyi edellisvuoden tammikuun tasolla, mutta tuonti EU:n ulkopuolelta laski kahdeksan prosenttia tammikuussa. Tuonti Ruotsista ja Isosta-Britanniasta kasvoi tammikuussa, mutta laski muista suurista kauppakumppaneista.
Taulu 1. Kokonaiskehitys (milj. euroa)

| Suunta | Tammikuu 2018 | Tammikuu 2019 | Muutos % |
| --- | --- | --- | --- |
| Vienti (fob) | 5 240 | 5 787 | +10 |
| Tuonti (cif) | 5 437 | 5 261 | -3 |
| Tase | -197 | 526 | |
Taulu 2. Ulkomaankaupan indeksit (2010=100)

Indeksi
Tammikuu 2018
Tammikuu 2019
Muutos %
2019:01/2018:12
Muutos %
2019:01/2018:01
Keskiarvo *
2018:02-2019:01
Muutos %
2018:02-2019:01/
2017:02-2018:01
Viennin volyymi-indeksi
101,7
112,3
+18,9
+10,5
102,8
+2,6
Tuonnin volyymi-indeksi
105,4
104,1
-1,1
-1,2
105,4
-0,9
Viennin yksikköarvoindeksi
115,9
117,0
-0,9
+1,0
117,5
+4,1
Tuonnin yksikköarvoindeksi
116,7
116,7
-0,4
0,0
119,9
+7,5
* Kahdentoista kuukauden liukuva keskiarvo
Risteilyalus ja lentokone viennin arvon nousun selittäjiä tammikuussa
Koneiden, laitteiden ja kuljetusvälineiden vienti kasvoi 28 prosenttia tammikuussa. Ryhmän tavaroista voimakoneiden ja moottoreiden vienti laski 13 prosenttia ja teollisuuden yleiskäyttöisten koneiden viennin arvo neljä prosenttia. Teollisuuden toimialojen erikoiskoneiden vienti kasvoi kaksi prosenttia. Sähköteknisten koneiden ja laitteiden viennin arvo kasvoi kolme prosenttia. Kuljetusvälineiden viennin arvo lähes kaksinkertaistui vertailukuukaudesta. Nousu johtui 544 miljoonan euron arvoisesta laivatoimituksesta Saksaan ja 116 miljoonan euron arvoisesta lentokoneviennistä Japaniin. Henkilöautojen viennin arvo sen sijaan laski jyrkästi. Viennin arvo väheni 32 prosenttia vertailukuukaudesta 163 miljoonaan euroon. Autoja vietiin 7 375 kappaletta, kun viime vuoden tammikuussa vietiin 9 657 autoa.
Öljytuotteiden viennin arvo laski kaksi prosenttia vuoden 2018 tammikuuhun verrattuna. Lasku johtui vientihintojen laskusta. Vientimäärät nousivat 815 tuhanteen tonniin. Muun kemianteollisuuden yhteenlaskettu viennin arvo nousi viisi prosenttia tammikuussa. Peruskemikaalien viennin arvo nousi vain prosentin. Lääkkeiden ja farmaseuttisten tuotteiden viennin arvo laski seitsemän prosenttia ja muovien viennin arvo kolme prosenttia. Kemianteollisuuden viennin veti kasvuun lannoitteiden viennin 44 prosentin kasvu 46 miljoonaan euroon.
Metsäteollisuuden tuotteiden kokonaisvienti kasvoi neljä prosenttia tammikuussa. Kemiallisen metsäteollisuuden tuotteiden viennin nousu jatkui tasaisena. Paperin ja pahvin viennin arvo kasvoi kuusi prosenttia. Vientimäärät laskivat, mutta vientihinnat nousivat. Paperimassan viennin arvo nousi viisi prosenttia tammikuussa. Vientimäärät laskivat hieman, mutta vientihinnat nousivat. Sahatavaran viennin arvo kasvoi kaksi prosenttia vuoden takaisesta vientimäärien nousun myötä. Vanerin ja muiden levytuotteiden viennin arvo kasvoi kolme prosenttia.
Metallisektorin tuotteiden viennin arvo vahvistui seitsemän prosenttia tammikuussa. Teräksen ja raudan vienti kasvoi tammikuussa 19 prosenttia. Kasvua selittää erityisesti kaasuputkien vienti avomerelle 74 miljoonan euron arvosta. Muiden metallien viennin arvo laski 12 prosenttia tammikuussa, joista kuparin vienti laski 30 prosenttia, sinkin vienti neljä prosenttia, nikkelin vienti prosentin ja koboltin vienti 25 prosenttia. Metallista valmistettujen tuotteiden viennin arvo nousi seitsemän prosenttia.
Muista arvoltaan merkittävistä tavararyhmistä elintarvikkeiden viennin arvo nousi 22 prosenttia maitotaloustuotteiden, viljan ja lohen viennin kasvun myötä, mutta malmien ja metalliromun vienti laski viisi prosenttia. Kojeiden ja mittareiden viennin arvo laski 12 prosenttia vuoden takaisesta.
Teollisuuden tuotantotarvikkeiden tuonti laski kuusi prosenttia tammikuussa. Poltto- ja voiteluaineiden tuonti laski kolme prosenttia ja investointitavaroiden tuonti neljä prosenttia. Kuljetusvälineiden tuonti laski kuusi prosenttia, mutta kulutustavaroiden tuonti kasvoi kaksi prosenttia. Elintarvikkeiden ja juomien tuonti nousi prosentin.
---
[1] Vaihtosuhde on yksikköarvoindeksin avulla laskettu vienti- ja tuontihintojen suhde. Ulkomaankaupan indeksit ja vaihtosuhde lasketaan tammikuusta 2013 alkaen käyttäen laskennan perusvuotena vuotta 2010.
Tiedustelut:
Kaarna, Anssi p. 040 332 8153
Telasuo, Christina p. 040 332 1828
​Sähköposti: [email protected]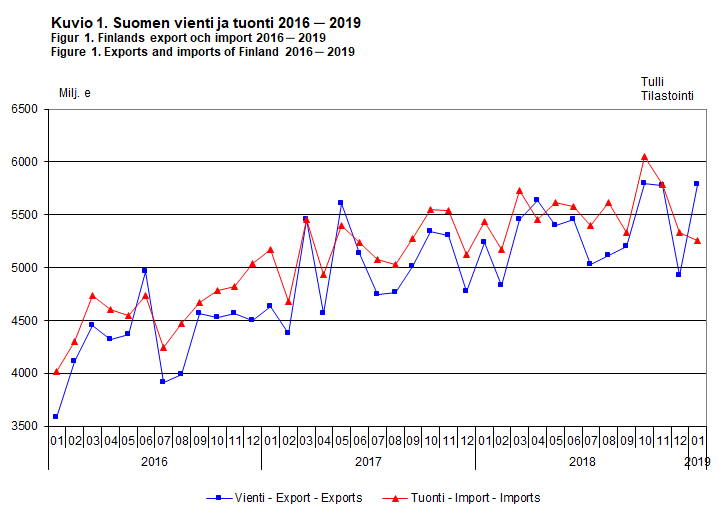 ---
Asiasanat
Seuraava julkistus
30.4.2019
---
We want to improve our website together with our customers. You can give us feedback by clicking "Send feedback".
Send feedback