Monthly statistics on the international trade in goods, March 2018
31.5.2018 9.00
---
---
Finnish Customs, Statistics
Export volume decreased while export prices grew in March
The value of Finnish exports of goods decreased by one per cent in March according to international trade in goods statistics provided by Finnish Customs. The value of Finnish exports was 5.4 billion euros. Export prices increased by 2.3 per cent while export volume decreased by 1.7 per cent. In January-March the value of exports increased by seven per cent.
The value of imports increased by four per cent in March and was 5.6 billion euros. Import prices increased by 6.3 per cent and import volume by 0.4 per cent. In January-March, the total import value increased by five per cent compared to the previous year.
The balance of trade showed a deficit of 207 million euros in March. In January-March the balance of trade had a deficit of 673 million euros. In March the previous year the trade surplus was 36 million euros, while in January-March the trade balance showed a deficit of 804 million euros. The terms of trade for foreign trade are calculated based on the unit value index. Terms of trade show the ratio between export and import prices. The terms of trade weakened in March because import prices grew more than export prices. The point figure in March was 97.8, while it was 101.8 March the previous year. The terms of trade weakened from the previous month's point figure of 99.1.
The value of exports of petroleum, basic chemicals, paper and cardboard and paper pulp increased in March. Growth in passenger car exports was still fast, but slowed down from the beginning of the year. The exports of special industry machines and electrical machinery and equipment increased. The value of exports of power machines and engines, mechanical forest products, instruments and meters and metals declined in March. Imports of consumer goods and industrial goods declined also in March, but imports of investment goods, transport equipment and energy products increased.
Both exports to EU member states and non-EU countries decreased by one per cent in March. Exports to Germany increased, but declined to most other major trading partners. Imports from EU-countries increased by two per cent and imports from non-EU countries by six per cent in March. Imports from Sweden, the Netherlands, China, the United Kingdom and France decreased, while imports from Germany, the United States and Russia increased.
Table 1. Total development (e million)
March
Change
January-March
Change
2017
2018
%
2017
2018
%
Exports (fob)
5 460
5 413
-1
14 465
15 420
+7
Imports (cif)
5 424
5 620
+4
15 269
16 093
+5
Balance
+36
-207
-804
-673
Table 2. International trade indexes
2010=100
March
Change
Mean*
Change
2017:03
2018:03
2018:03/
2018:02
2018:03/
2017:03
2017:04-2018:03
2017:04-2018:03/
2016:04-2017:03
Volume index
Exports
108,0
106,2
+12,3
-1,7
100,5
+7,5
Imports
109,4
109,8
+7,8
+0,4
106,8
+6,4
Unit value index
Exports
113,1
115,7
+0,8
+2,3
113,3
+4,3
Imports
111,2
118,2
+2,0
+6,3
112,6
+4,7
* Moving 12-months averages
---
Further information:
Kaarna, Anssi tel. +358 40 332 8153
Telasuo, Christina tel. +358 40 332 1828
[email protected]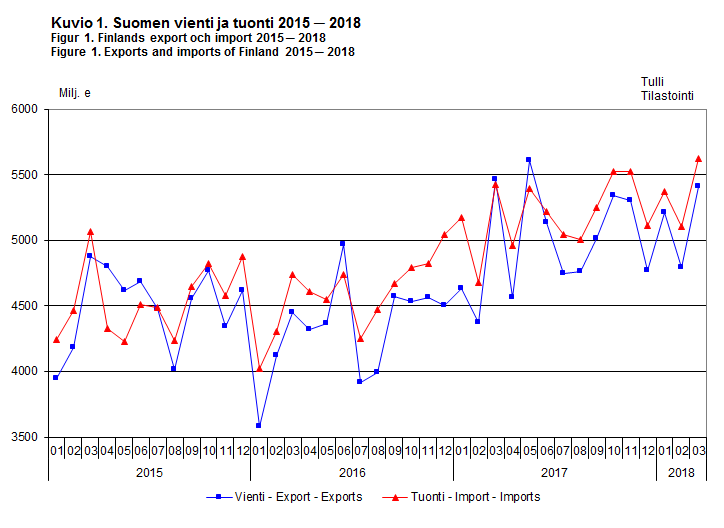 ---
Asiasanat
Seuraava julkistus
29.6.2018
---
We want to improve our website together with our customers. You can give us feedback by clicking "Send feedback".
Send feedback