Månadsstatistik om utrikeshandel med varor, december 2018
28.2.2019 9.00
---
---
Tullen, Statistik
Både exportvolymen och exportpriserna ökade i december
Värdet på Finlands export av varor ökade med tre procent i december enligt Tullens utrikeshandelsstatistik. Värdet på exporten var 4,9 miljarder euro. Exportpriserna ökade med 3,2 procent och exportvolymen med 0,8 procent. I januari-december har det sammanlagda värdet på exporten ökat med sju procent.
Importens värde ökade med fyra procent i december och värdet var 5,3 miljarder euro. Importpriserna steg med 1,3 procent och importvolymen växte med 4,2 procent. I januari-december ökade det totala importvärdet med sex procent jämfört med året innan.
Handelsbalansen visade ett underskott på 427 miljoner euro i december. I januari-december hade handelsbalansen ett underskott på nästan 2,6 miljarder euro. I december året innan var underskottet i handelsbalansen 350 miljoner euro och i januari-december samma år hade handelsbalansen ett underskott på nästan 2,8 miljarder euro. Utrikeshandelns bytesförhållande räknas på basis av enhetsvärdeindex och visar exportprisernas utveckling i förhållande till importpriserna. Då exportpriserna ökade mer än importpriserna, förbättrades bytesförhållandet i december jämfört med året innan. Indextalet låg på 100,8 i december då det i december året innan var 98,9. I november 2018 låg indextalet på 96,9.
Exporten av maskiner och utrustning minskade i december. Exporten av personbilar växte stadigt men exporten av oljeprodukter sjönk kraftigt. Exporten av övriga kemiska produkter låg på nästan samma nivå som året innan. Den starka tillväxten i exporten av kemiska skogsindustriprodukter fortsatte i december, men värdet av timmerexporten sjönk betydligt. Exporten av koppar, zink och nickel minskade men exporten av mät- och kontrollinstrument ökade markant i december.
Importen av bränslen ökade betydligt i december 2018. Importen av industrins insatsvaror och transportmedel steg också medan importen av investeringsvaror, konsumtionsvaror samt livsmedel minskade.
Exporten till EU-länder ökade med fem procent i december medan exporten till länder utanför EU låg på samma nivå som året innan. Exporten till Kina och Storbritannien minskade, men ökade till andra större exportländer. Importen från EU-länderna minskade med en procent, men ökade från länder utanför EU med 12 procent i december. Importen sjönk mest från Tyskland, Kina och Sverige. Importen från Ryssland, Nederländerna och USA ökade.
Tabell 1. Total utveckling (milj. euro)

December
Förändring

Januari-december

Förändring
2017
2018
%
2017
2018
%
Export (fob)
4 776
4 914
+3
59 711
63 843
+7
Import (cif)
5 126
5 340
+4
62 469
66 470
+6
Balans
-350
-427
-2 758
-2 627
Tabell 2. Index för utrikeshandel

2010=100
December

Förändring

Medeltal*

Förändring

2017:12
2018:12

2018:12/




2018:11

2018:12/




2017:12

2018:01-2018:12

2018:01-2018:12/




2017:01-2017:12

Volymindex
Export
93,7
94,5
-14,1
+0,8
101,9
+2,4
Import
101,0
105,3
-3,2
+4,2
105,5
-0,9
Enhetsvärdeindex
Export
114,4
118,1
-0,8
+3,2
117,4
+4,4
Import
115,7
117,2
-4,7
+1,3
119,9
+8,1
* Tolv månaders glidande medelvärde
---
Mera information:
Kaarna, Anssi tfn 040 332 8153
Telasuo, Christina tfn 040 332 1828
fö[email protected]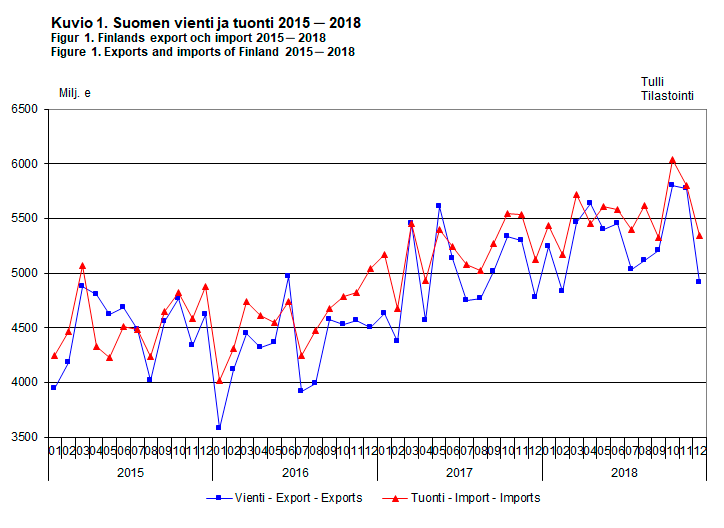 ---
Asiasanat
Seuraava julkistus
29.3.2019
---
We want to improve our website together with our customers. You can give us feedback by clicking "Send feedback".
Send feedback