Tavaroiden ulkomaankaupan kuukausitilasto joulukuussa 2018
28.2.2019 9.00
---
---
Tulli, Tilastointi
Sekä vientihinnat että -määrät nousivat joulukuussa
Vaihtosuhde parani joulukuussa
Suomen tavaraviennin arvo kasvoi joulukuussa kolme prosenttia vuoden takaisesta Tullin ulkomaankauppatilastojen mukaan. Vienti oli arvoltaan hieman yli 4,9 miljardia euroa. Sekä vientihinnat että vientimäärät nousivat joulukuussa. Volyymi kohosi 0,8 prosenttia ja vientihinnat 3,2 prosenttia. Volyymin nousu hidastui selvästi marraskuusta, mutta hintojen nousutahti oli suurin piirtein samalla tasolla. Tuonnin arvo kasvoi joulukuussa neljä prosenttia ja oli hieman yli 5,3 miljardia euroa. Tuontihinnat nousivat 1,3 prosenttia ja tuontimäärät 4,2 prosenttia vuoden takaisesta. Tammi-joulukuussa viennin arvo kasvoi seitsemän prosenttia ja tuonnin arvo kuusi prosenttia vuodesta 2017.
Kauppatase oli joulukuussa 427 miljoonaa euroa alijäämäinen. Tammi-joulukuussa kauppataseen alijäämää kertyi noin 2,6 miljardia euroa. Vuoden 2017 joulukuussa kauppatase oli 350 miljoonaa euroa alijäämäinen ja tammi-joulukuussa lähes 2,8 miljardia euroa alijäämäinen. Yksikköarvoindeksin mukaan laskettu ulkomaankaupan vaihtosuhde[1] parani joulukuussa vuoden 2017 vastaavaan kuukauteen verrattuna, koska vientihinnat nousivat tuontihintoja enemmän. Pisteluku oli joulukuussa 100,8 ja edellisvuonna 98,9. Vaihtosuhde parani marraskuusta, jolloin pisteluku oli 96,9.
Koneiden ja laitteiden vienti laski aavistuksen joulukuussa erityisesti voimakoneiden ja moottoreiden viennin heikkouden vuoksi. Henkilöautojen vienti kasvoi tasaisesti. Öljyjalosteiden viennin arvo syöksyi jyrkästi vientimäärien laskun vuoksi. Muun kemianteollisuuden vienti oli lähes vuoden 2017 joulukuun tasolla. Kemiallisen metsäteollisuuden viennin vahva vire jatkui joulukuussa, mutta sahatavaran viennin arvoon tuli selvää laskua. Metallien viennin kasvua selittää pääasiassa kaasuputkien vienti avomerelle ja Ruotsiin 114 miljoonan euron arvosta. Teräslevyjen, kuparin, sinkin ja nikkelin vienti oli alavireistä. Kojeiden ja mittareiden vienti kasvoi joulukuussa jyrkästi erityisesti vahvan Yhdysvaltoihin viennin ansiosta. Polttoaineiden ja teollisuuden tuotantotarvikkeiden tuonti kasvoi, mutta investointitavaroiden ja kulutustavaroiden tuonti laski.
Vienti EU-maihin kasvoi joulukuussa viisi prosenttia, mutta vienti EU:n ulkopuolelle säilyi vuoden 2017 joulukuun tasolla. Vienti Kiinaan ja Isoon-Britanniaan laski joulukuussa, mutta vienti muihin suuriin kauppakumppaneihin kasvoi. Tuonti EU-maista laski prosentin, mutta tuonti EU:n ulkopuolelta kasvoi 12 prosenttia joulukuussa. Tuonti Saksasta, Kiinasta ja Ruotsista väheni, kun taas tuonti Venäjältä, Alankomaista ja Yhdysvalloista kasvoi. Tammi-joulukuussa vienti EU-maihin kasvoi kuusi prosenttia ja ulkokaupan vienti kahdeksan prosenttia. Samalla ajanjaksolla tuonti EU-maista nousi neljä prosenttia ja tuonti EU:n ulkopuolelta kymmenen prosenttia.
Taulu 1. Kokonaiskehitys (milj. euroa)

| Suunta | Joulukuu 2017 | Joulukuu 2018 | Muutos % | Tammi-joulukuu 2017 | Tammi-joulukuu 2018 | Muutos % |
| --- | --- | --- | --- | --- | --- | --- |
| Vienti (fob) | 4 776 | 4 914 | +3 | 59 711 | 63 843 | +7 |
| Tuonti (cif) | 5 126 | 5 340 | +4 | 62 469 | 66 470 | +6 |
| Tase | -350 | -427 | | -2 758 | -2 627 | |
Taulu 2. Ulkomaankaupan indeksit (2010=100)

Indeksi
Joulukuu 2017
Joulukuu 2018
Muutos %
2018:12/2018:11
Muutos %
2018:12/2017:12
Keskiarvo *
2018:01-2018:12
Muutos %
2018:01-2018:12/
2017:01-2017:12
Viennin volyymi-indeksi
93,7
94,5
-14,1
+0,8
101,9
+2,4
Tuonnin volyymi-indeksi
101,0
105,3
-3,2
+4,2
105,5
-0,9
Viennin yksikköarvoindeksi
114,4
118,1
-0,8
+3,2
117,4
+4,4
Tuonnin yksikköarvoindeksi
115,7
117,2
-4,7
+1,3
119,9
+8,1
* Kahdentoista kuukauden liukuva keskiarvo
Lääketieteellisten kojeiden vienti Yhdysvaltoihin kasvoi jyrkästi
Koneiden, laitteiden ja kuljetusvälineiden vienti laski prosentin joulukuussa. Ryhmän tavaroista voimakoneiden ja moottoreiden vienti laski 15 prosenttia ja teollisuuden toimialojen erikoiskoneiden vienti kaksi prosenttia. Laskua selittää erityisesti paperiteollisuuden koneiden osien sekä generaattoreiden ja moottoreiden viennin heikkous. Teollisuuden yleiskäyttöisten koneiden viennin arvo nousi kuusi prosenttia. Sähköteknisten koneiden ja laitteiden viennin arvo laski kaksi prosenttia, mutta kuljetusvälineiden viennin arvo nousi viisi prosenttia. Henkilöautojen viennin arvo kasvoi neljä prosenttia 224 miljoonaan euroon.
Öljytuotteiden viennin arvo laski selvästi joulukuussa. Arvo putosi 18 prosenttia vuoden 2017 joulukuuhun verrattuna. Lasku johtui vientimäärien pudotuksesta, sillä vientihinnat pysyivät lähes vuoden 2017 joulukuun tasolla. Muun kemianteollisuuden yhteenlaskettu viennin arvo nousi prosentin joulukuussa. Peruskemikaalien viennin arvo laski kuusi prosenttia, sekä lääkkeiden ja farmaseuttisten tuotteiden viennin arvo kaksi prosenttia. Muovien viennin arvo kohosi neljä prosenttia ja lannoitteiden vienti 21 prosenttia.
Metsäteollisuuden tuotteiden kokonaisvienti kasvoi seitsemän prosenttia joulukuussa. Kemiallisen metsäteollisuuden tuotteiden kasvu säilyi edelleen vahvana joulukuussa loppuvuoden muiden kuukausien tapaan. Paperin ja pahvin viennin arvo kasvoi viisi prosenttia. Tavararyhmän vientimäärät laskivat 771 tuhanteen tonniin, mutta vientihinnat nousivat. Paperimassan viennin arvo nousi 29 prosenttia joulukuussa sekä vientihintojen että -määrien nousun myötä. Sahatavaran viennin arvo laski 13 prosenttia vuoden takaisesta vientimäärien pudottua selvästi. Vanerin ja muiden levytuotteiden viennin arvo kasvoi kaksi prosenttia.
Metallisektorin tuotteiden viennin arvo vahvistui 13 prosenttia joulukuussa. Teräksen ja raudan vienti kasvoi joulukuussa marraskuun tapaan jyrkästi, 51 prosenttia. Kasvua selittää erityisesti kaasuputkien vienti avomerelle ja Ruotsiin 114 miljoonan euron arvosta. Teräslevyvalmisteiden viennin arvoon sen sijaan tilastoitiin neljä prosenttia laskua. Värimetallien vienti laski 19 prosenttia joulukuussa, joista kuparin vienti laski kymmenen prosenttia, sinkin vienti 26 prosenttia ja nikkelin vienti 25 prosenttia. Metallista valmistettujen tuotteiden viennin arvo nousi prosentin.
Muista arvoltaan merkittävistä tavararyhmistä elintarvikkeiden viennin arvo nousi neljä prosenttia ja malmien ja metalliromun kuusi prosenttia. Kojeiden ja mittareiden viennin arvo kasvoi jyrkästi ja kohosi 54 prosenttia vuoden takaisesta 222 miljoonaan euroon. Viennin kasvua selittää lääketieteellisten kojeiden viennin arvon kaksinkertaistuminen vertailukuukaudesta. Niiden vienti Yhdysvaltoihin kasvoi jyrkästi.
Teollisuuden tuotantotarvikkeiden tuonti nousi viisi prosenttia joulukuussa. Poltto- ja voiteluaineiden tuonti kasvoi 15 prosenttia, mutta investointitavaroiden tuonti laski kuusi prosenttia. Kuljetusvälineiden tuonti nousi 12 prosenttia, mutta kulutustavaroiden tuonti laski seitsemän prosenttia. Elintarvikkeiden ja juomien tuonti laski viisi prosenttia.
---
[1] Vaihtosuhde on yksikköarvoindeksin avulla laskettu vienti- ja tuontihintojen suhde.
Tiedustelut:
Kaarna, Anssi p. 040 332 8153
Telasuo, Christina p. 040 332 1828
[email protected]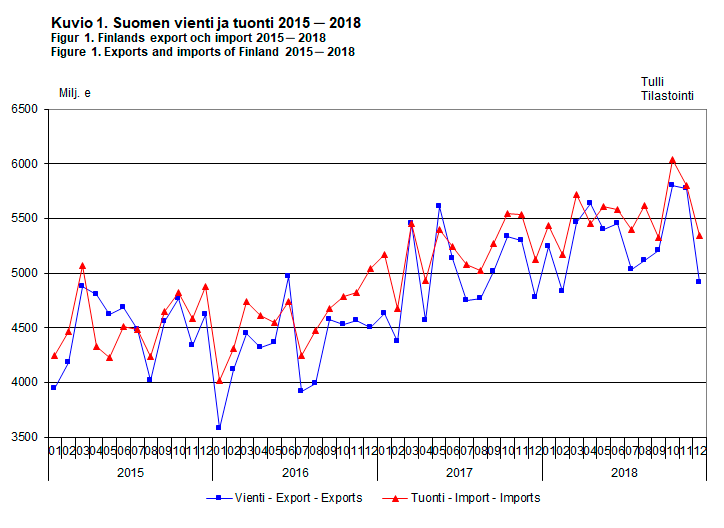 ---
Asiasanat
Seuraava julkistus
29.3.2019
---
We want to improve our website together with our customers. You can give us feedback by clicking "Send feedback".
Send feedback