Tavaroiden ulkomaankaupan ennakkotilasto tammikuussa 2019
11.3.2019 9.00
---
---
Tulli, Tilastointi
Tavaraviennin arvo nousi kymmenen prosenttia tammikuussa
Laivatoimitus Saksaan ja lentokonevienti Japaniin nostivat viennin arvoa
Suomen tavaraviennin arvo oli tammikuussa Tullin ennakkotilaston mukaan lähes 5,8 miljardia euroa. Viennin arvo oli kymmenen prosenttia suurempi kuin viime vuoden tammikuussa. Tuonti laski tammikuussa kolme prosenttia vertailukuukaudesta ja oli arvoltaan hieman alle 5,3 miljardia euroa.
Kauppatase oli tammikuussa 530 miljoonaa euroa ylijäämäinen. Kuukausittainen kauppatase oli edellisen kerran ylijäämäinen huhtikuussa 2018. Viime vuoden tammikuussa kauppatase oli 200 miljoonaa euroa alijäämäinen.
Viennin arvon kasvua tammikuussa selittävät Saksaan toimitettu 544 miljoonan euron arvoinen alus ja Japaniin viety 116 miljoonan euron arvoinen lentokone. Ilman laiva- ja lentokonevientiä laskettuna viennin arvo pieneni noin kaksi prosenttia viime vuoden tammikuusta. Kemiallisen metsäteollisuuden tuotteiden viennin kasvu hidastui viime vuoden viimeiseltä neljännekseltä. Öljyjalosteiden sekä koneiden ja laitteiden viennin arvoon tilastoitiin pientä laskua. Raudan ja teräksen viennin veti kasvuun 73 miljoonan euron arvoisten kaasuputkien toimitus avomerelle. Sahatavaran vienti kasvoi hieman, mutta kuparin, sinkin ja nikkelin vienti laski. Myös kojeiden ja mittareiden vientiin tilastoitiin laskua. Raakaöljyn ja öljyjalosteiden, koneiden ja laitteiden sekä kuljetusvälineiden tuonti laski, mutta lääkkeiden ja raudan sekä teräksen tuonti kasvoi.
Vienti EU-maihin nousi tammikuussa 16 prosenttia, mutta tuonti EU:sta säilyi edellisvuoden tasolla. Vienti EU:n ulkopuolelle nousi kaksi prosenttia, kun taas tuonti EU:n ulkopuolelta pieneni kahdeksan prosenttia.
Vienti Saksaan kasvoi jyrkästi alustoimituksen vuoksi tammikuussa. Myös vienti Ruotsiin ja Yhdysvaltoihin vahvistui. Vienti Alankomaihin, Isoon-Britanniaan, Kiinaan ja Venäjälle laski. Tuonti Ruotsista ja Isosta-Britanniasta kasvoi tammikuussa, mutta laski muista suurista kauppakumppanimaista. Tuonti Venäjältä väheni jyrkästi.
Ennakkotilasto sisältää ensimmäiset kuukausitason tiedot Suomen käymästä tavaroiden ulkomaankaupasta kokonaistasolla. Tarkentuneet tiedot viennistä ja tuonnista sekä maa- ja tavarakohtaiset tiedot julkaistaan kuun lopussa ulkomaankaupan kuukausitilastossa.
Tiedustelut:
Kaarna, Anssi p. 040 332 8153
Telasuo, Christina p. 040 332 1828
Sähköposti: [email protected]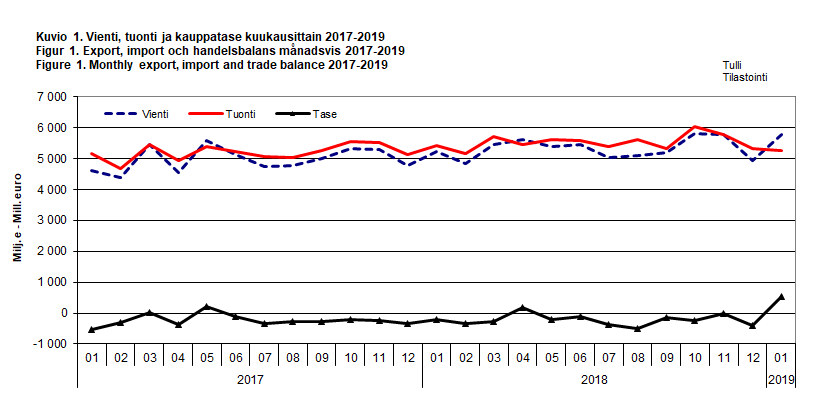 ---
Asiasanat
Seuraava julkistus
9.4.2019
---
We want to improve our website together with our customers. You can give us feedback by clicking "Send feedback".
Send feedback