Preliminär statistik om utrikeshandel med varor, januari 2018
9.3.2018 9.00
---
---
Tullen, Statistik
Exporten ökade 12 procent i januari
Finlands export av varor ökade med 12 procent i januari enligt Tullens preliminära uppgifter om utrikeshandeln. Värdet av Finlands export var nästan 5,2 miljarder euro. Importen ökade med tre procent i januari jämfört med året innan och importens värde var något över 5,3 miljarder euro.
Handelsbalansen visade ett underskott på 150 miljoner euro i januari. Under samma period året innan visade handelsbalansen ett underskott på 535 miljoner euro.
Exporten till EU-länder ökade med nio procent i januari och exporten till länderna utanför EU med 16 procent. Importen från EU-länder ökade med åtta procent men importen från icke-EU länder sjönk med två procent i januari.
Publikationen preliminär statistik om utrikeshandel med varor innehåller de första uppgifterna på månadsnivå om Finlands utrikeshandel med varor som helhet. Preciserade uppgifter om export och import samt utrikeshandeln per varuklass och land publiceras i slutet av varje månad i månadsstatistiken om utrikeshandeln.
Mera information:
Telasuo, Christina tfn 040 332 1828
Riikonen, Johanna tfn 040 332 1824
E-post: fö[email protected]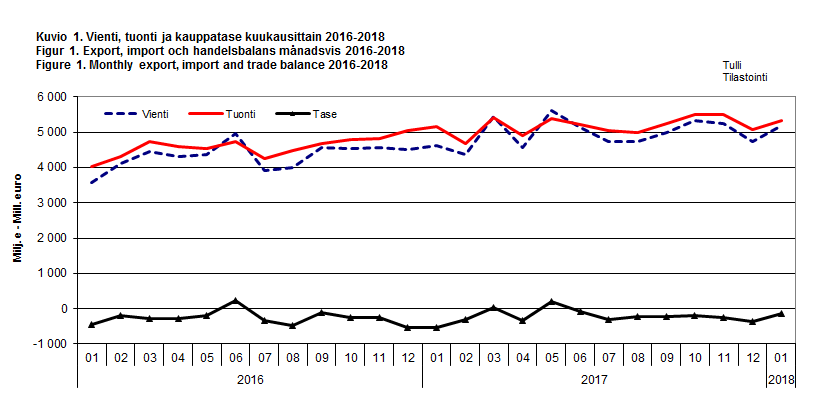 ---
Asiasanat
Seuraava julkistus
9.4.2018
---
We want to improve our website together with our customers. You can give us feedback by clicking "Send feedback".
Send feedback