Tavaroiden ulkomaankaupan ennakkotilasto maaliskuussa 2018
8.5.2018 9.00
---
---
Tulli, Tilastointi
Tavaraviennin arvo laski prosentin maaliskuussa
Vertailukuukauden laivatoimitus selittää viennin laskua
Suomen tavaraviennin arvo oli maaliskuussa Tullin ennakkotilaston mukaan 5,4 miljardia euroa. Viennin arvo oli prosentin pienempi kuin viime vuoden maaliskuussa. Vientiin tilastoitiin laskua edellisen kerran joulukuussa 2016. Tuonnin arvo nousi maaliskuussa kolme prosenttia ja oli hieman alle 5,6 miljardia euroa. Ensimmäisen neljänneksen yhteenlaskettu viennin arvo nousi kuusi prosenttia. Yhteenlaskettu tuonnin arvo vuoden alusta nousi viisi prosenttia verrattuna viime vuoden vastaavaan ajanjaksoon.
Kauppatase oli maaliskuussa 160 miljoonaa euroa alijäämäinen. Tammi-maaliskuussa kauppataseen alijäämää tuli 625 miljoonaa euroa. Viime vuoden maaliskuussa kauppatase oli 40 miljoonaa euroa ylijäämäinen, ja ensimmäinen neljänneksen vaje oli tuolloin 795 miljoonaa euroa.
Maaliskuun viennin arvon laskua selittää vertailukuukaudelle osunut 115 miljoonan euron arvoinen laivatoimitus. Myös koneiden ja laitteiden viennin arvo laski viime vuoden maaliskuusta. Teollisuuden koneiden ja laitteiden viennin arvon lasku oli loivaa, sähköteknisten koneiden ja laitteiden viennin arvon lasku jyrkempää. Laskua tilastoitiin myös kuparin, sahatavaran, raudan ja teräksen sekä kojeiden ja mittareiden vientiin. Henkilöautojen viennin arvo kasvoi selvästi viime kuukausia hitaammin maaliskuussa. Kemiallisen metsäteollisuuden tuotteiden viennin arvo nousi helmikuun tapaan. Kasvua kirjattiin maaliskuussa myös öljyjalosteiden ja peruskemikaalien vientiin.
Tuonnin kasvu oli maaliskuussa jyrkintä raakaöljyn ja öljytuotteiden sekä kuljetusvälineiden kohdalla. Kasvua tuli myös koneiden ja laitteiden sekä lääkkeiden tuontiin. Raudan ja teräksen, muovien sekä malmien tuonti laski.
Sekä vienti EU-maihin että EU:n ulkopuolelle laski maaliskuussa prosentin. Tuonti EU:sta säilyi edellisvuoden tasolla, mutta tuonti EU:n ulkopuolelta kasvoi kuusi prosenttia. Tammi-maaliskuussa vienti EU-maihin kasvoi viisi prosenttia ja ulkokaupan vienti kahdeksan prosenttia. Ensimmäisellä neljänneksellä tuonti EU-maista nousi kuusi prosenttia, kun taas tuonti EU:n ulkopuolelta kasvoi neljä prosenttia.
Vienti Saksaan kasvoi jyrkästi maaliskuussa pääasiassa henkilöautoviennin kasvun ansiosta. Vienti kaikkiin muihin suurimpiin kauppakumppanimaihin sen sijaan laski hieman. Tuonti Norjasta, Saksasta, Yhdysvalloista ja Venäjältä kasvoi maaliskuussa, mutta tuonti Ruotsista, Kiinasta ja Alankomaista laski.
Ennakkotilasto sisältää ensimmäiset kuukausitason tiedot Suomen käymästä tavaroiden ulkomaankaupasta kokonaistasolla. Tarkentuneet tiedot viennistä ja tuonnista sekä maa- ja tavarakohtaiset tiedot julkaistaan kuun lopussa ulkomaankaupan kuukausitilastossa.
Tiedustelut:
Kaarna, Anssi p. 040 332 8153
Telasuo, Christina p. 040 332 1828
Sähköposti: [email protected]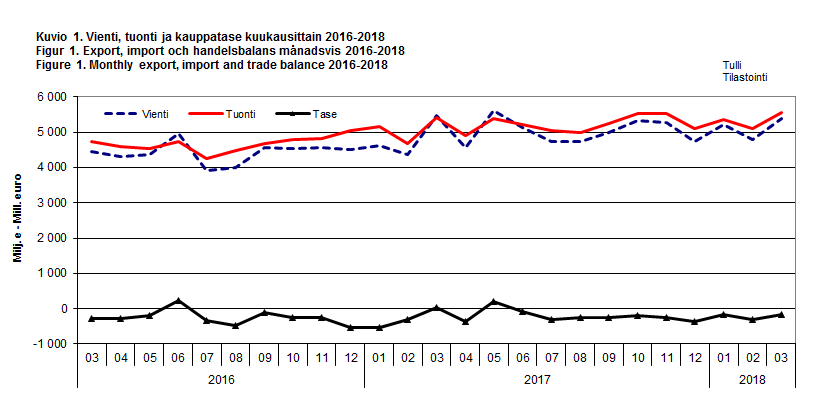 ---
Asiasanat
Seuraava julkistus
7.6.2018
---
We want to improve our website together with our customers. You can give us feedback by clicking "Send feedback".
Send feedback