Tavaroiden ulkomaankaupan ennakkotilasto kesäkuussa 2019
8.8.2019 9.00
---
---
Tulli, Tilastointi
Tavaraviennin arvo laski kolme prosenttia kesäkuussa
Vienti Saksaan alavireistä, ulkokaupan vienti kasvoi
Suomen tavaraviennin arvo oli kesäkuussa Tullin ennakkotilaston mukaan hieman yli 5,2 miljardia euroa. Viennin arvo laski kolme prosenttia viime vuoden kesäkuusta. Tuonnin arvo laski kesäkuussa kymmenen prosenttia ja oli hieman alle 5,1 miljardia euroa. Ensimmäisen vuosipuoliskon viennin arvo nousi neljä prosenttia viime vuodesta. Tuonnin arvo vuoden alusta laski prosentin verrattuna viime vuoden tammi-kesäkuuhun.
Kauppatase oli kesäkuussa 195 miljoonaa euroa ylijäämäinen. Tammi-kesäkuun kauppatase kääntyi 130 miljoonaa euroa ylijäämäiseksi. Viime vuoden kesäkuussa kauppatase oli 175 miljoonaa euroa alijäämäinen ja tammi-kesäkuussa 1,2 miljardia euroa alijäämäinen.
Tavaraviennin arvo laski useassa tavararyhmässä kesäkuussa. Jyrkintä lasku oli kuljetusvälineiden kohdalla. Metsäteollisuuden tuotteiden sekä koneiden ja laitteiden viennin arvon lasku oli hieman hitaampaa. Öljyjalosteiden viennin arvo säilyi viime vuoden tasolla, mutta muun kemianteollisuuden viennin arvo laski. Metallien kokonaisviennin käänsi kasvuun kaasuputkien vienti avomerelle ja Venäjälle viime kuukausien tapaan. Putkien viennin arvo oli kesäkuussa 129 miljoonaa euroa. Ilman putkivientiä laskettuna kokonaisviennin arvo olisi laskenut kesäkuussa viisi prosenttia.
Viennin tavoin myös tuonnissa kirjattiin arvon laskua tasaisesti eri ryhmissä. Teollisuuden koneiden ja laitteiden, kuljetusvälineiden, kemianteollisuuden tuotteiden, raudan ja teräksen sekä malmien tuonnin arvo laski. Sähköteknisten tuotteiden tuonnin arvo pysyi lähes viime vuoden tasolla.
Vienti EU-maihin laski kesäkuussa seitsemän prosenttia ja tuonti EU:sta 14 prosenttia. Vienti EU:n ulkopuolelle nousi kolme prosenttia, mutta tuonti EU:n ulkopuolelta väheni kolme prosenttia kesäkuussa. Tammi-kesäkuussa vienti EU-maihin kasvoi kaksi prosenttia ja ulkokaupan vienti kuusi prosenttia. Samalla ajanjaksolla tuonti EU-maista säilyi edellisvuoden tasolla, kun taas tuonti EU:n ulkopuolelta laski kaksi prosenttia.
Vienti Saksaan laski huomattavasti kesäkuussa. Vienti Ruotsiin, Alankomaihin ja Isoon-Britanniaan laski selvästi hitaammin. Vienti Yhdysvaltoihin, Kiinaan ja Venäjälle kasvoi kesäkuussa. Tuonti Yhdysvalloista kasvoi selvästi, mutta tuonti Kiinasta kasvoi vain hieman. Tuonti muista suurista kauppakumppaneista laski kesäkuussa. Eniten laski tuonti Saksasta.
Ennakkotilasto sisältää ensimmäiset kuukausitason tiedot Suomen käymästä tavaroiden ulkomaankaupasta kokonaistasolla. Tarkentuneet tiedot viennistä ja tuonnista sekä maa- ja tavarakohtaiset tiedot julkaistaan kuun lopussa ulkomaankaupan kuukausitilastossa.
Tiedustelut:
Kaarna, Anssi p. 040 332 8153
Penttilä, Olli-Pekka p. 040 332 1862
Sähköposti: [email protected]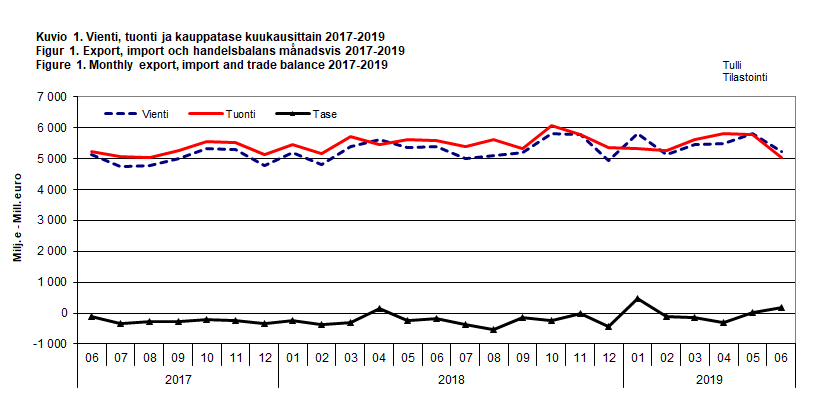 ---
Asiasanat
Seuraava julkistus
6.9.2019
---
We want to improve our website together with our customers. You can give us feedback by clicking "Send feedback".
Send feedback