Tavaroiden ulkomaankaupan ennakkotilasto heinäkuussa 2018
7.9.2018 9.00
---
---
Tulli, Tilastointi
Tavaraviennin arvo kasvoi viisi prosenttia heinäkuussa
Kemiallisen metsäteollisuuden viennin kasvu jatkui
Suomen tavaraviennin arvo oli heinäkuussa Tullin ennakkotilaston mukaan lähes viisi miljardia euroa, joka oli viisi prosenttia enemmän kuin viime vuoden heinäkuussa. Tuonti kasvoi heinäkuussa seitsemän prosenttia ja oli arvoltaan 5,4 miljardia euroa. Tammi-heinäkuun yhteenlaskettu vienti nousi seitsemän prosenttia. Yhteenlaskettu tuonti vuoden alusta nousi kuusi prosenttia verrattuna viime vuoden vastaavaan ajanjaksoon.
Kauppatase oli heinäkuussa 450 miljoonaa euroa alijäämäinen. Tammi-heinäkuussa kauppataseen alijäämää on kertynyt lähes 1,2 miljardia euroa. Viime vuoden heinäkuussa kauppatase oli 333 miljoonaa euroa alijäämäinen ja tammi-heinäkuun vaje oli tuolloin yli 1,4 miljardia euroa.
Kemiallisen metsäteollisuuden tuotteiden eli paperin ja pahvin sekä paperimassan vienti jatkoi heinäkuussa kasvuaan. Erityisesti sellun viennin arvo nousi selvästi vuoden takaisesta. Myös öljyjalosteiden ja kuljetusvälineiden vienti jatkui pirteänä. Metallien vientiin tilastoitiin niin ikään kasvua, edellisen kuukauden tapaan eniten lisääntyi nikkelin vienti. Laskua puolestaan kirjattiin lääketieteellisten kojeiden ja laitteiden sekä turkisnahkojen heinäkuun vientilukuihin.
Tuonnissa öljyjalosteiden ja raakaöljyn tuonnin arvo kasvoi reippaasti edellisen vuoden heinäkuusta. Myös metallien tuonnin kasvu oli heinäkuussa huomattavaa: raudan ja teräksen, nikkelin, alumiinin sekä kuparin tuonti lisääntyi selvästi. Rauta- ja terästavaroiden tuonti puolestaan laski. Sekä koneiden ja laitteiden että sähkökoneiden ja –laitteiden tuonti pysyi suunnilleen edellisvuoden tasolla.
Vienti EU-maihin nousi heinäkuussa kaksi prosenttia ja tuonti EU:sta kasvoi kuusi prosenttia. Samaan aikaan sekä vienti EU:n ulkopuolelle että tuonti EU:n ulkopuolelta nousi kahdeksan prosenttia. Tammi-heinäkuussa vienti EU-maihin on kasvanut kuusi prosenttia ja ulkokaupan vienti seitsemän prosenttia. Samalla ajanjaksolla tuonti EU-maista on noussut viisi prosenttia ja tuonti EU:n ulkopuolelta on kasvanut kuusi prosenttia.
Tärkeimmistä vientimaista tavaravienti kasvoi heinäkuussa eniten Ruotsiin, Kiinaan ja Saksaan. Vienti Venäjälle ja Alankomaihin laski. Tavaratuonti Saksasta ja Alankomaista laski hieman, kun taas tuonti muista suurimmista tuontimaista lisääntyi.
Ennakkotilasto sisältää ensimmäiset kuukausitason tiedot Suomen käymästä tavaroiden ulkomaankaupasta kokonaistasolla. Tarkentuneet tiedot viennistä ja tuonnista sekä maa- ja tavarakohtaiset tiedot julkaistaan kuun lopussa ulkomaankaupan kuukausitilastossa.
Tiedustelut:
Riikonen, Johanna p. 040 332 1824
Telasuo, Christina p. 040 332 1828
Sähköposti: [email protected]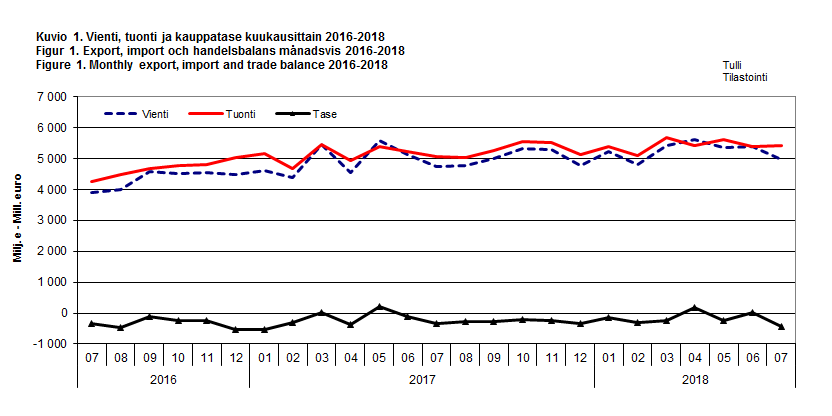 ---
Asiasanat
Seuraava julkistus
9.10.2018
---
We want to improve our website together with our customers. You can give us feedback by clicking "Send feedback".
Send feedback