What data is declared in Intrastat?
In the statistical declaration, the arrivals of goods from Member States into Finland as well as dispatches from Finland to Member States are declared. A condition for statistical data to be included in the compilation is that the goods physically cross the Finnish border. An exception to this rule is vessels and aircraft, sea products, spacecraft and in some cases goods delivered to and from offshore installations.
The statistical declaration on internal trade is a monthly report which has to be submitted even if there have been no arrivals or dispatches to report during the calendar month in question. In such cases, the information provider must submit an empty declaration without a single commodity code. If the company makes use of reporting unit codes, the possible empty declaration must be submitted separately for each office.
Statistics are to include goods manufactured within the EU as well as goods originating in a third country which have undergone customs clearance and released into free circulation in the EU, and which have gained Community status (T2 goods).
It is not relevant for the compilation of statistics whether payment transactions are involved in the deliveries. As an example, goods supplied free of charge are declared in the statistical declaration if they otherwise fulfil the conditions set on data to be included.
---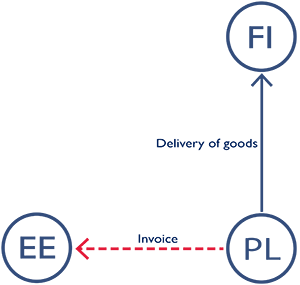 Example 1
The Estonian company EE buys goods from the Polish company PL. PL sends the invoice to EE, but the goods are delivered directly from Poland to FI in Finland.
The Finnish company FI submits an Intrastat declaration for this goods delivery, because the goods arrive in Finland physically.
---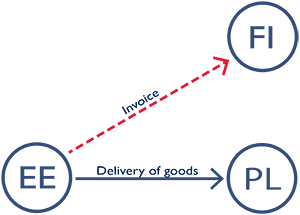 Example 2
The Finnish company FI buys goods from the Estonian company EE. EE sends the invoice to FI, but the goods are delivered directly from Estonia to Poland.
The Finnish company FI does not submit an Intrastat declaration for this goods delivery, because the goods do not arrive in Finland physically.
---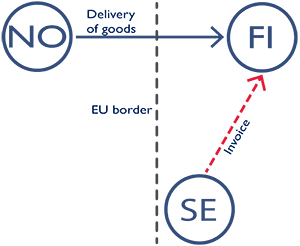 Example 3
The Finnish company FI buys goods from the Swedish company SE. SE sends the invoice to FI, but the goods are delivered directly from Norway to Finland, where they are cleared.
The Finnish company FI does not submit an Intrastat declaration for this goods delivery, because the goods are cleared in Finland, and the statistical data are retrieved from the customs clearance system for external trade.
---
Deliveries to be included in statistical declarations:
goods bought and sold (incl. goods bought for the company's own use)
other commercial arrivals and dispatches; for example, manufacturing and repairing goods under contract and returning goods thereafter
triangulation, if the goods cross the Finnish border
stock movements
goods for leasing and returned goods
rental goods, if the rental period is more than 2 years
goods deliveries for project dispatches and project arrivals
goods supplied free of charge
indirect arrivals and dispatches
certain goods deliveries to ships and airplanes
Application instructions:
Plain trade in services involving no delivery is excluded from the statistics. For example the following transactions are to be classified as services: the transfer of copyright, patents, licenses, trademark and other similar rights, advertising and publicity services, consultancy, product development, bookkeeping and other similar services, as well as other immaterial services specified in section 68 of the Value Added Tax Act. An exception to this is the leasing of movables, which should be declared in the statistical declaration if the term of the lease exceeds two years. Another exception is import and export of electricity.
Special computer software stored in a data medium are also considered a service and shall not be declared in the statistical declaration. Standard computer software, however, is declared normally. Standard computer software refers to mass-produced commercial products (for example PC software, game packages) generally available to all customers.
---
A. Monetary gold
B. Means of payment which are legal tender and securities, including means which are payments for services such as postage, taxes, user fees. Meaning money or stamps etc. used for paying, those shouldn´t be reported in Intrastat. Old coins or stamps as collecting items shall be reported.
C. Goods for or following temporary use, provided all the following conditions are met:
No processing is or was planned or carried out
The expected duration of the temporary use was or is not intended to be longer than 24 months
The dispatch/arrival need not be declared as a supply/acquisition for VAT purposes
For example:
Hire, loan, operational leasing
Goods intended for fairs and exhibitions
Theatrical scenery, merry-go-rounds and other fairground attractions
Professional equipment
Cinematographic films (demonstration films, news matter etc.)
Animals for show, breeding, racing, etc.
Means of transport, containers and equipment connected with transport
Goods for the repair of the means of transport, containers and related transport equipment and parts replaced during the repairs
Packaging
Goods destined for examination, analysis or test purposes
D. Goods moving between:
A Member State and its territorial enclaves in other Member States, and
The host Member State and territorial enclaves of other Member States or international organisations
Territorial enclaves include embassies and national armed forces stationed outside the territory of the mother country.
E. Goods used as carriers of customised information, including software
For example special computer software saved in a data medium (software tailored for one customer and created according to the customer's requirements)
F. Software downloaded from the Internet
G. Goods supplied free of charge which are themselves not the subject of a commercial transaction, provided that the movement is with the sole intention of preparing or supporting an intended subsequent trade transaction by demonstrating the characteristics of goods or services such as:
Advertising material
Commercial samples
H. Means of transport travelling in the course of their work, including spacecraft launchers at the time of launching
I. Supply of services including no deliveries of goods
J. Temporarily imported and exported goods
K. Tome non-commercial transactions
L. Rental goods, if the rental period is less than 2 years
M. Transit transport (transito) goods
N. Triangulation, if the goods do not cross the Finnish border
O. Goods placed under the procedures of inward processing (suspension system) or goods manufactured under this procedure
P. Goods trade with areas left outside the value added tax system of the internal trade
Thus also dispatches from the Åland Islands to Member States and arrivals from Member States to the Åland Islands remain outside the Intrastat system. These cases shall be included in the statistics on internal trade, but the data is obtained based on the customs clearance procedure (Basic regulation on EU internal trade (EC) No 638/2004).
---