Country of consignment (arrivals) / Country of destination (dispatches)
Upon dispatch of vessels and aircraft, the country of destination is the country where the company to which the economic ownership is transferred is established. Upon arrival, the country of consignment is the country where the company transferring the economic ownership is established.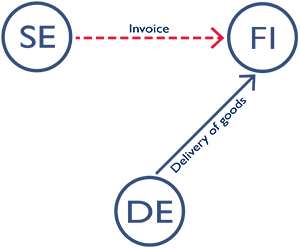 Example 1
The Finnish company FI buys goods from the Swedish company SE, and the goods are delivered to Finland from Germany.
DE (Germany) is marked down as Country of consignment for the arrivals even if the invoice is issued by a Swedish company.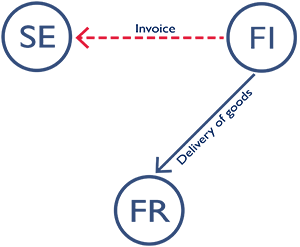 Example 2
The Finnish company FI sells goods to the Swedish company SE, and the goods are delivered directly from Finland to France.
FR (France) is marked down as Country of destination for the dispatches even if the invoice is sent to the Swedish company.
The Country of consignment and the Country of destination are declared using the following country codes (in brackets - areas to be either included or excluded from the statistical declaration).
AT Austria
BE Belgium
BG Bulgaria
HR Croatia
CY Cyprus (not the northern area of Cyprus)
CZ Czech
DK Denmark (not the Faeroe Islands and Greenland)
EE Estonia
FR France (incl. Monaco, but not Andorra or The French Overseas Departments)
DE Germany (incl. Heligoland but not the area of Büsingen)
GB Great Britain until 31.12.2020 (incl. Northern Ireland and the Isle of Man, but not the Canal Islands or Gibraltar)
GR Greece (not Agio O'ros)
HU Hungary
IE Ireland
IT Italy (not San Marino or the Vatican State)
LV Latvia
LT Lithuania
LU Luxembourg
MT Malta
NL The Netherlands
XI Northern Island since 1.1.2021
PL Poland
PT Portugal (incl. the Azores and Madeira)
RO Romania
SK Slovakia
SI Slovenia
ES Spain (incl. the Balears, but not the Canary Islands, Ceuta or Melilla)
SE Sweden
The following areas outside the European Union's VAT system are not included in the Intrastat data acquisition system: the area of Büsingen (CH), Ceuta (XC), Melilla (XL), San Marino (SM), Andorra (AD), Gibraltar (GI), Agio O'ros (GR), the Channel Islands Jersey, Guernsey, Alderney and Sark (GB), The Canary Islands (ES) and The French Overseas Departments Reunion, Guadeloupe, Martinique, French Guyana (FR) and Mayotte (YT).
Data on the trade between Finland and the above mentioned areas is collected using the foreign trade customs clearance procedure; the country code to be used in the declaration is indicated above, after the name of the area.