Using a condition code
According to Taric, certain commodity codes, or e.g. the use of certain customs systems require the provision of the condition code. Usually the condition requires the presentation of the required document. The need for a condition code and the prerequisites for the use of conditions can be checked in the Commission's TARIC database.
Example:
Commodity code 8525 80 99 00 from Norway. It is possible to receive tariff preference with customs system 2012 (EEA) subject to measures. If the conditions are met and the document required for the preference is presented, the condition code B001 will be indicated in the customs declaration. If there is no such document, the condition code is B002, and the preference cannot be applied.

TARIC database search result: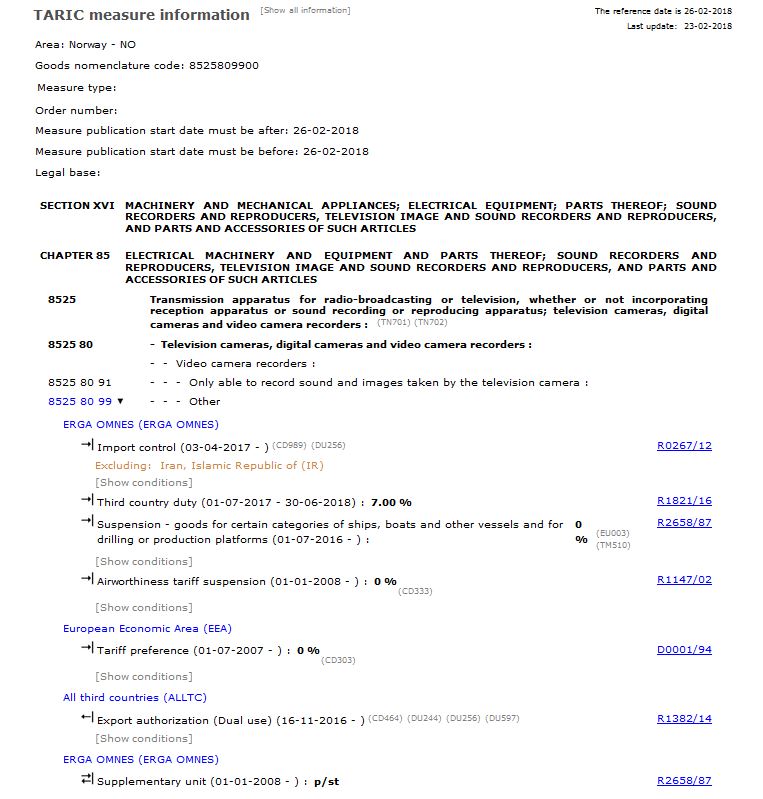 On the SAD, the condition code is entered in box 44.
In the EDI message, the condition code is indicated at goods item level with the additional statement code XAN.
Condition codes are not provided in the new customs clearance service. When requesting preferential treatment in the customs clearance service, any documents and their codes (e.g. Y021) shall be provided.
General instructions for businesses
General instructions for businesses offers advice Mon–Fri 8 am–4.15 pm. Have a look at the FAQ or contact us with your question.