Working for Customs
Customs facilitates the trade in goods and ensures its correctness, levies taxes on goods efficiently, offers customer-oriented services and protects society, the environment and citizens. About 1 900 professionals work for Finnish Customs in various parts of Finland.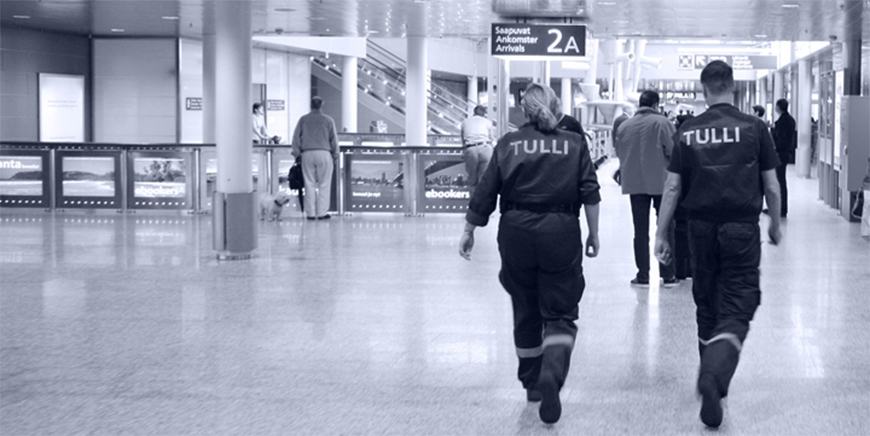 We carry out customs clearance and customs enforcement, and we levy taxes and develop legislation in Finland and the EU. We also develop data systems for the purpose of facilitating foreign trade that takes place in an increasingly electronic environment. At Finnish Customs, you can work for example in crime prevention, corporate audit and the Customs Laboratory.
Job vacancies at Customs are published on the state administration's joint website Valtiolle.fi. The vacancy notices and links to the notices on Valtiolle.fi, are also available on Customs' website under job vacancies. On the website Valtiolle.fi, customs professionals speak about their job and their experiences when working for Customs.
Customs also trains its personnel
Tasks at Customs vary from basic tasks to demanding duties meant for experts, and the job applicants are expected to have the appropriate training for the task. You cannot apply separately for training at the Customs School. All persons who are chosen to work for Customs will be trained once the work has begun.
Each Customs employee undergoes basic customs training, the length of which is determined according to each particular task. After the basic training the Customs employees support and develop their skills with short duration studies, which support their tasks. On average, we train our personnel yearly for more than six workdays.
We care about occupational well-being
The values of Finnish Customs on all levels of the organisation are: vocational competence, reliability, service-mindedness and appreciation of the individual. It is important to us to advance and maintain occupational well-being among our personnel, as well as occupational safety through management, and the training of supervisors and our entire work community. We monitor our occupational well-being on a regular basis, and perform practical measures based on the results for improving occupational well-being.
Women make up 46,8 percent of the customs workforce and the supervisory positions are distributed equally between men and women.
More than half of Customs' personnel work with operational tasks, which are connected to customs clearance, customs control and crime prevention. Most of them work in shifts in different customs locations in Finland. For personnel with specialist tasks we have a flexitime system in place, which makes it easier to coordinate work and leisure time and most tasks can also be carried out as remote work.
We offer our personnel
high-quality occupational health service
a possibility for training and developing new skills
the possibility to apply for job rotation and to partake in international civil servant exchange programmes
exercise and recreational benefits
the possibility for a cheaper lunch than normal
a possibility to partake in exercise and recreational events arranged by the employer
the possibility to obtain office software for home computers at an affordable price.
---
Customs has a wage system that divides tasks according to competency into 18 competency levels. In addition to the demands of each task, wages are based on personal work performance.
The amount of supplemented wage based on personal performance ranges from 8 to 44 percent. A good level of performance that meets the aims and expectations is set to correspond to a personal wage component of 32 per cent. Furthermore, there is a wage supplement for working conditions in some tasks, which is a maximum of 4 percent of the competency component.
Task-based wage components from 1 April 2019
| Competency level | Task-based wage component €/month | Example: good level of performance 32 % |
| --- | --- | --- |
| 7 | 1 827,18 | 2 411,88 |
| 8 | 1 880,68 | 2 482,5 |
| 9 | 1 947,22 | 2 570,33 |
| 10 | 2 042,93 | 2 696,67 |
| 11 | 2 174,2 | 2 869,94 |
| 12 | 2 290,92 | 3 024,01 |
| 13 | 2 446,37 | 3 229,21 |
| 14 | 2 648,41 | 3 495,90 |
| 15 | 2 870,88 | 3 789,56 |
| 16 | 3 094,41 | 4 084,62 |
| 17 | 3 332,95 | 4 399,49 |
| 18 | 3 592,28 | 4 741,81 |
| 19 | 3 927,89 | 5 184,81 |
| 20 | 4 259,97 | 5 623,16 |
| 21 | 4 653,45 | 6 142,55 |
| 22 | 5 082,5 | 6 708,9 |
---