Customs' Newsroom
In the Newsroom, you'll find Finnish Customs' press releases and customer notices, topical information published in social media, newsletters, customs information bulletins (THT) (in Finnish and Swedish), as well as statistical publications and reviews regarding foreign trade statistics.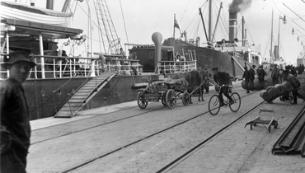 Customs' role in the events of 1918
Also this year we publish articles (in Finnish) under the topic "Customs a Hundred Years Ago". The articles are distributed to the media as press releases. Now we recount the varied and tragic events of 1918. Even though Customs did not play that central of a role in these events, the agency was at the core of the government. When governance was fought over, Customs was swept along into the crisis.
All published "Customs a Hundred Years Ago" articles (in Finnish)
Publications and brochures
Always mention Customs as the source when using videos and photos.
Photos
Help us improve our site content
We want to improve our service, which is why your feedback is valuable to us. If you have ideas on how our web services could be developed further or if you wish to give us feedback, please let us know.
Send feedback