The Customs Laboratory celebrates 110 years in service
The Customs Laboratory was established on 27 February 1907 through a decision by the Finnish Senate. During its 110 years, the Customs Laboratory's activity and tasks have changed in many ways. We have gone from 407 goods analyses undertaken for Customs Houses in1908, to 16 099 lots in 2016. What should be mentioned though, is that the amount of personnel at the Customs Laboratory has also grown from one person to 61.
During the first years of the Customs Laboratory, most of the goods samples were different technical products and raw-materials, oil and different kinds of fat, foodstuffs and stimulants, paints and fibres, fabrics and paper. In 2016 most of the samples were connected to suspected customs offences. The second highest rate of samples were connected to foodstuff and consumer goods controls as well as vegetable conformity compliance inspections.
The basis for the high quality functions of the Customs Laboratory is its accredited system of operation. The Customs Laboratory is a testing laboratory accredited by the Finnish Accreditation Service FINAS (T006, accreditation requirements SFS-EN ISO/IEC 17025), and its qualification range covers all the key research methods used in laboratories. The Accreditation Service FINAS, assesses the Customs Laboratory operations on a regular basis.
the Customs Laboratory operation is also assessed by EU, since the Customs Laboratory has been chosen by the Ministry of Agriculture and Forestry as a national reference laboratory for inspecting foodstuffs and food contact materials, in accordance with EU's control regulation.
The Customs Laboratory celebrates its 110 years in service by organising an open house for its customers and interest groups on 25 August 2017. More information about the open house will be provided at a later date.
Picture: The Customs Laboratory performance distribution in 2016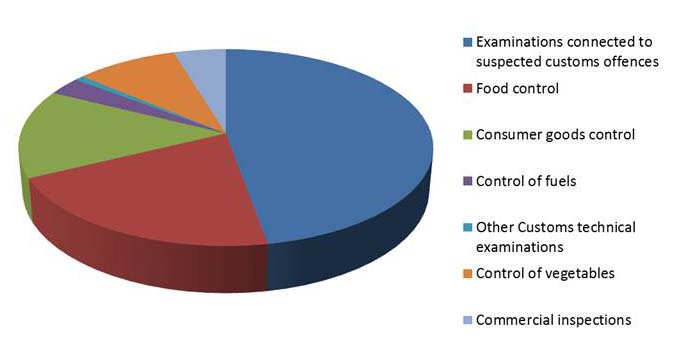 For further information, please call the Customs Media Service on +358 295 527 150