Preliminary statistics on the international trade in goods, February 2020
7.4.2020 9.00
---
---
Finnish Customs, Statistics
Exports decreased by 15.2 per cent in February
UK included in external trade from February and onwards
According to the preliminary statistics of international trade in goods provided by Finnish Customs, the value of Finnish exports decreased by 15.2 per cent while the value of imports decreased by 2,5 per cent in February year-on-year. The value of Finnish exports in February was almost 4.4 billion euros and the value of imports was slightly over 5.1 billion euros. Calculated from the beginning of the year, exports decreased by 16.2 per cent and imports by 2.9 per cent year-on-year.
The trade balance showed a deficit of 770 million euros in February. Calculated from January to February there was a deficit of almost 1.1 billion euros. Under the same period last year, the balance of trade showed a surplus of 395 million euros. Last year the trade balance for February showed a deficit of 120 million euros.
United Kingdom withdrew from the EU January 31st 2020. UK data has been excluded from the group EU-countries and included in the group external trade from February 2020 publication onwards in international trade in goods statistics provided by Finnish Customs. For comparability and consistency of time series the data has also been transferred retrospectively. This applies also to the trend and seasonally adjusted time series. The transfer has an impact on the value, change and shares for the groups "EU-countries" and "external trade" but not on total values of international trade or on data for Euro-countries.
Exports to EU member states decreased by 14.6 per cent in February and exports to non-EU countries by 15.8 per cent. Imports from EU-countries diminished by 1.9 per cent and imports from non-EU countries fell by 3.3 per cent in February. Calculated from the beginning of the year, exports to EU decreased by 18.4 per cent and to non-EU countries by 13.2 per cent. During the same period, imports from EU member states fell by 3.2 per cent and from other countries by 2.6 per cent.
The monthly preliminary statistics release contains preliminary overall figures about Finland's international trade in goods. More precise figures of exports and imports as well as detailed statistics about specific countries and goods will be published at the end of the month in the monthly statistical release.
Further information:
Telasuo, Christina tel. +358 40 332 1828
Riikonen, Johanna tel. +358 40 332 1824
E-mail: [email protected]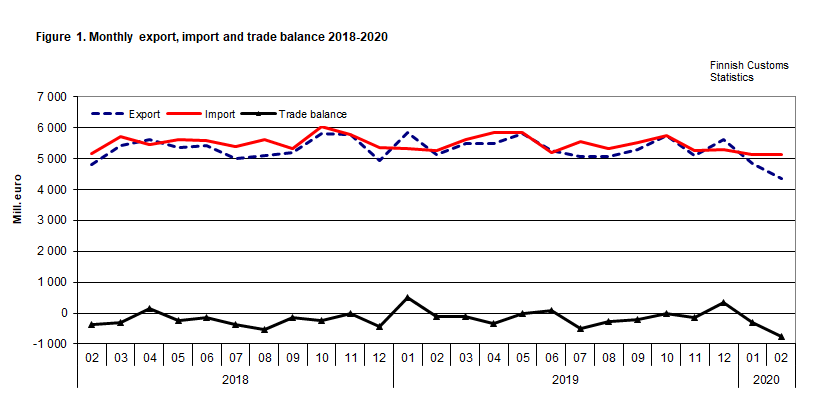 ---
Asiasanat
Seuraava julkistus
8.5.2020
---