Just starting to do business with Customs, or already a veteran? You will need Suomi.fi identification and authorisation, and an EORI number
If your company intends to order products from outside the EU, you can easily take care of customs transactions on our website. For submitting customs declarations, you will need a Suomi.fi identification and authorisation, an EORI number, and some knowledge of transactions with Customs.
All our transaction services are available through the Suomi.fi identification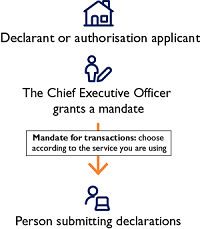 If you have used the Katso identification for accessing Customs transaction services, it is a good idea to start using the Suomi.fi identification and authorisation, as you will no longer be able to use Katso in transactions after 31 December 2020. The Suomi.fi identification is available in all our transaction services and, after the turn of the year, it will be the only means of identification.
Strong personal identification is used when logging in to the Suomi.fi service, i.e. online banking codes, a mobile certificate or a certificate card.
If your company's CEO or another person with signatory rights submits the declarations, no mandate is required. In other cases, the CEO must authorise the person responsible for customs transactions in the Suomi.fi authorisation service.
Does your company already have an EORI number?
All importers and exporters must obtain an identification number for customs transactions, an EORI number, from Customs, because in future, it must be provided in customs declarations.
You can obtain an EORI number from the search service that can be accessed through Suomi.fi identification.
Note that a VAT ID is sufficient for statistical (Intrastat) declarations on trade between EU member states.
Many ways to familiarise yourself with customs transactions
If you are planning to start importing or exporting, have a look at the instructions for new businesses on our website. You also have access to web seminars where you will learn about the basis of import, export and tariff classification, and about the customs declaration reform.
Submit your own customs declarations or use an agent
Your company can submit its own customs declarations or use an agent, that is, authorise another company to take care of transactions.
If you decide to do business with Customs yourself, you can submit customs declarations electronically through our e-Services or in message format. E-Services are suitable for customers who are in contact with Customs on an irregular basis. If you need to lodge declarations often, you are better served by lodging them directly from your company's own information systems.
Keep track of the implementation of Suomi.fi identification and authorisations in Customs' services:
Subscribe to the customs clearance newsletter
Customs' instructions on identification and authorisation
More information about identification on the Suomi.fi website:
Introduction to Suomi.fi identification
How to grant and request authorisations
Links to the user instructions for the e-Authorization service
Customer support for companies and organisations:
Suomi.fi identification and authorisation:
Digital and Population Data Services Agency, customer service for organisations, tel. 0295 535 115 (Mon–Fri 10 a.m. to 3 p.m.)
organisaatiopalvelut(at)dvv.fi
Customs transactions:
General advice for business customers, tel. 0295 5202, 8 a.m. to 4.15 p.m.