Ehtokoodin käyttö
Taricin mukaan määrätyt tullinimikkeet tai esim. tiettyjen tullijärjestelmien käyttö vaativat ehtokoodin ilmoittamista. Tavallisesti ehto edellyttää tarvittavan asiakirjan esittämistä. Mahdollisen ehtokoodin tarpeellisuuden ja ehtojen käyttämisen edellytykset voi tarkistaa Komission ylläpitämästä TARIC-kyselyohjelmasta.
Esimerkki:
Nimike 8525 80 99 00 Norjasta. Tuotteelle on mahdollista saada tullietuutta tullijärjestelmällä 2012 (EEA) toimenpide-edellytyksin. Jos ehdot täyttyvät ja kyseinen etuuteen tarvittava asiakirja esitetään, ilmoitetaan tulli-ilmoituksella ehtokoodi B001. Mikäli asiakirjaa ei ole ilmoitetaan ehtokoodi B002, jolloin etuutta ei voida soveltaa.

TARIC-kyselyohjelman hakutulos: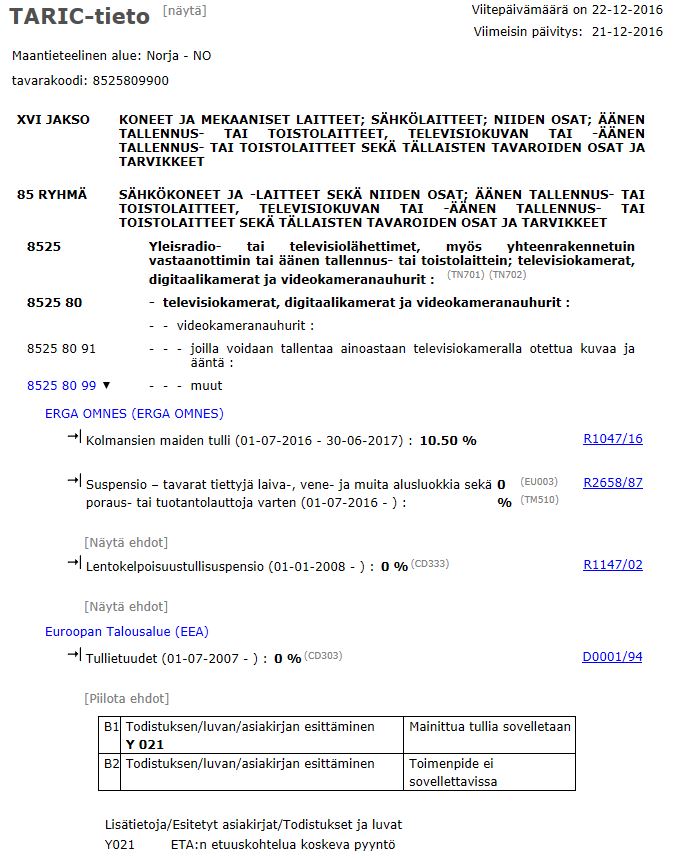 Ehtokoodi ilmoitetaan SAD-lomakkeella kohdassa 44.
EDI-sanomalla ehtokoodi ilmoitetaan tavaraerätasolla erityismaininnan lisäkoodilla XAN.
Customs Information Service, Business customers
Monday to Friday 8 am–4 pm
The cost of a call from a landline or mobile phone subscription is 0 cents/min + local network charge/ standard mobile rate.
Help us improve our site content
We want to improve our service, which is why your feedback is valuable to us. If you have ideas on how our web services could be developed further or if you wish to give us feedback, please let us know.
Send feedback