Customs' Newsroom
In the Newsroom, you'll find Finnish Customs' press releases and customer notices, topical information published in social media, customs information bulletins (THT) (in Finnish and Swedish), as well as statistical publications and reviews regarding foreign trade statistics.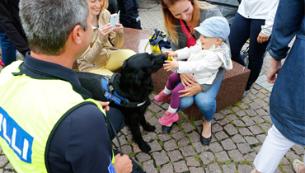 Tulli mukana SuomiAreenalla ja Saanko pelastaa -tapahtumassa
Tervetuloa tapaamaan tullilaisia SuomiAreenalle 10.–14.7.2017 ja Saanko pelastaa –tapahtumaan 12.7.2017. Tullilla on maanantaista perjantaihin Kansalaistorilla teltta, jossa voi käydä mm. rapsuttamassa tullikoira Heilaa, Onnia ja Terttua. Keskiviikkona 12.7.2017 Tulli osallistuu Saanko Pelastaa –tapahtumaan Länsi-Suomen Pelastusharjoitusalueella.
Kuvia ja videoita käyttäessä tulee mainita lähteenä Tulli.
Kuvia
Help us improve our site content
We want to improve our service, which is why your feedback is valuable to us. If you have ideas on how our web services could be developed further or if you wish to give us feedback, please let us know.
Send feedback